Frequently Asked Questions
What is the difference between the iPhone ($ 99.88 ) vs Android version ($89.98)?
Quick Answer:
$99.98 One works on iPhone only. It's just Plug and Play. It's that Easy! ( no talk & GPS)
$89.98 One works on all iPhones and Android Smartphones too. It came with additional Talk Hands Free and GPS Navigation functions, but it requires charging. It came with rechargeable battery. That plays about 7 hours with one charge.
More Detail about the two transmitters:
The fm transmitter for iPhone developed specifically for new headphone-less iPhone. It works on iPhone with Lightning ONLY. Plug and Play. No charging needed! NO TALK HandsFree!!!!
The fm transmitter for Android is made for all smartphones with headphone jack. It works on all iOS and Android smartphones. It comes with a rechargeable battery. One hour of charge will last up to 8hrs of play. It will It also works with iPhone 6, 7, 8, X, 11 with dongle / extension $9.00 @ apple store.
If you have a Samsung / LG / Xiaomi / Nokia / eta with TYPE C Port. You can also get a dongle / extension for your TYPE C from Amazon. Click here for info
If you have an older smartphone with Mirco USB . This is the dongle / extension for you Click here for info
FM Transmitter for iPhone Instruction ( 2020 )
When you plug the transmitter into your iPhone.
You will see that it activated with a red light.
You then set your radio to the 87.9 FM.
You should be able to hear music thru your radio with 87.9 FM.
If 87.9 Fm is NOT clear in your area, you can choose another
preset which is on the back of the transmitter.
The instruction is actually on the back of the transmitter.
default = static red = R = 87.9
press once = blue = B = 94.9
press again = green = G = 102.7
press again = flash red = RR = 87.5
press again = flash blue = BB = 94.5
press again = flash green = GG = 108.0
Here is the instruction in action :

This transmitter works with old home radios too.
Headphone Jack Smartphone User Instructions:
#1 charge the transmitter ( red light means charging )

#2 turn on the transmitter by holding down the toggle switch for 3- 5 seconds for the Blue light comes on.. ( Blue light means the transmitter if ON )

#3 turn your radio and set it to 87.9 , 94.4 or 102.7 whichever gives you the best reception in your area.

#4 hold the button until you hear the static noise goes away ( holding down the button will cycle thru the 3 preset ). When the static noise goes silent it means that the stations are matching correctly.

One flash = 87.9. Two Flash = 94.9. Three Flash = 102.7

#5 plug into your phone and make sure you hit play on Pandora or whatever app you use for music.

#6 you should hear the music comes thru the car

#7 Program 87.9 ( or 94.4 or 102.7 ) to your car radio's preset for future. ( see your owner's manual for your particular car radio system ).

#7 Set your phone volume to about 80 to 90 % and use your car stereo to adjust the volume.

#8 when you are done, you can either hold the button for a few seconds until the blue light goes away or simply unplug and the transmitter will turn itself off after 3 to 5 minutes of inactivities.

One full charge ( around two hours ) should give you 8 to 10 hours of play time ( depend on usage ).

Say "hallelujah".... Thank you gizmo guy! I got my music and save 100s of dollars. ;)
Here is quick walk thru of how to set up the gadget. It works on all home or car radio, and the process are the same.
iPhone X
Check out How to Hook Up iPhone X to Older Car Radio by Wesley Wade on Snapguide.
Trouble Shooting Tips
For iPhone 6, iPhone 6 Plus, iPhone 6S and iPhone 6s Plus
The phone must be naked without the protective case. Make sure the transmitter is plugged in all the way to the headphone jack with a snap. The transmitter needs to make a full contact thru the audio jack to get the best sound and performance. If you have a thick protective case like an Otterbox or Life Proof Case. It may be a good idea that you invest $9.00 ( anywhere ) for a dongle from the Apple store. This dongle / extension is made for the iPhone 7 and iPhone 8. However, it works with the iPhone 6 and iPhone 6 Plus just as well. It adds the conveniences of using the transmitter without the issues with the protective case. It is well worth the $9.00 in this case. DO NOT get the cheaper stuff from Amazon or Ebay. They DO NOT WORK.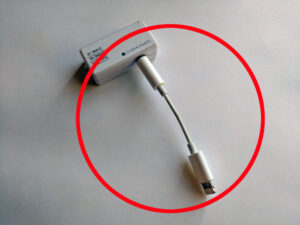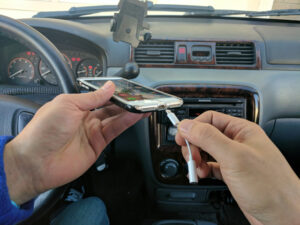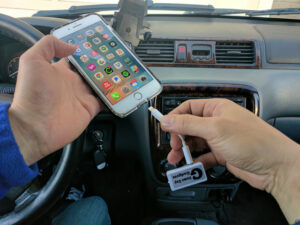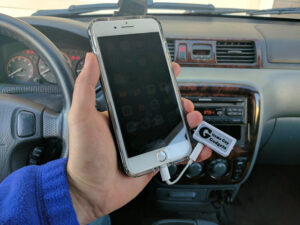 Alternatively, you can also use a Y-Splitter ( about $3.00 ) from Amazon or Ebay.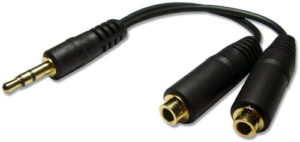 For iPhone 7,
iPhone 7 Plus, iPhone 8, iPhone 8 Plus and iPhone X
The iPhone 7 or above has NO HEADPHONE JACK. It DOES come with a small extension wire / dongle in the box ( you can find it attached to the back of the headphone ). This wire allows you to connect the newer headphoneless iPhone to the standard 3.5 mm headphones.
Can I charge the iPhone while I use your device?
Yes, You will need a splitter from Amazon. Please make sure it has MFI ( made for iPhone ) logo on it. It will not work and you may lose some function so please read the fine print prior purchase. MFI means it has been certified by Apple as a compatible accessory. It is usually much more expensive, but it's worth it without the frustration of something that is CHEAP and DO NOT WORK or Die shortly after you use it. DO NOT GET THIS FROM EBAY..You will be SAD and SORRY.
Note: The iPhone 7 and 7 Plus has much better battery than the iPhone 6 or 6s. You may not need this if you have iPhone 7 or above.
You can read all about the Belkin Splitter Here
FM Transmitter Troubleshooting Tips
HEADPHONE JACK: The use of a cover on your device may prevent the headphone jack from inserting fully into your device's headphone port. If you do use a cover, try removing it and then re-insert the headphone jack.
AUDIO SIGNAL: If you are experiencing issues with the audio signal, test the FM Transmitter with another device, if possible (another phone, iPod, etc.). If the FM Transmitter works as expected with another device, then the issue is most likely isolated to your device.
VOLUME: For best results, set the volume on your device to maximum, and adjust the volume on your vehicle's stereo as needed. To protect a user's hearing, most devices contain a feature that limits the volume coming from the headphone port, so you may need to check your device's settings for this volume-limiting option and then disable it.
STATIC: To eliminate or minimize static, use frequencies at the lower end of your vehicle's stereo's range, and also place the device on your vehicle's dashboard or passenger seat, away from the FM Transmitter itself. When properly calibrated with your vehicle's stereo, you should not be bothered by static.
FM FREQUENCIES: There are three " fixed " station for you to choose from. 87.9 works for 95% of people in the United States. For quick adjustments in the future, you can use the preset buttons on both the FM Transmitter and your vehicle's stereo to save these unused frequencies.
POWER: If the FM Transmitter does not turn on, then test it in another vehicle, if possible. If it works as expected in the other vehicle, then the issue is most likely with your vehicle's power port. If it fails to work as expected in the other vehicle, then check to see if the fuse in the FM Transmitter has blown. The FM Transmitter is equipped with a 3-amp/250-volt fuse which is accessed by unscrewing the two-piece metal tip.
Set Up Trouble Shooting Tips
I GET STATIC WHEN I USE THE TRANSMITTER.
Sound transmission through the FM radio waves is a tricky business. ( This is one of the reasons why the major manufacturers DO NOT feature it on the smartphone.) There are many factors that could result in your sound transmission to be less than ideal. Your vehicle and location are all important variables. I've personally tested on hundreds of different vehicles to make sure that this gadget is compatible with most vehicles and the sound is at it's best quality.
Make sure the volume of your iPhone is set at about 60% to 80%. Max volume or low volume of your phone will cause distortion and interference to your sound. You can set the volume thru your car radio.
Extend or Telescope your car antenna if possible. Changing the angle or direction of your antenna could also improve the sound quality dramatically.
If you are in an area where there is more static interference. Try this! Attach the USB charging wire and let it dangle. ( this is the same as extending the telescoping antenna on traditional radio ), which will boost the radio signal up to 30% and improve the sound quality.
Battery and Charging Issues.
The bulit-in battery will take around two hours for a full charge, and it will typically last 8 to 10 hrs of play time depending on the usage. As a good measure, charge the transmitter overnight the first time, and charge it when needed thereafter.
My Transmitter was working perfectly and suddenly it will not charge anymore? Did the battery die on me?
The transmitter has built-in smart battery. When it detects the sudden surge of voltage in the car charger. It will shut itself off to protect the battery. ( Works much like the surge protector ). When this happens the transmitter will appear to be dead and the battery will not take charges anymore.
To Reset: Simply charge the transmitter thru your iPhone, iPad or iPod charger, or USB charger on your computer ( not in a car ). It will reset itself and works as normal again.
While you can charge the transmitter by plugging it into the cigarette lighter with the USB wire. It is NOT a good idea.The cigarette charger in your car is unstable which causes the battery to seize. Remember to unplug the transmitter from charging when you first start the car.
Always use the USB 1A charger that came with your iPhone, iPad, iPod or USB charger on a computer. DO NOT USE 2.01A USB (faster ) charger. The higher voltage will cause the transmitter to sezie up and damage or reduce the life of the battery.
Read more: http://www.ehow.com/info_12226215_usb-chargers-same-voltage.html#ixzz2dI5j39Rr
Is there anything I can do to extend the transmission quality and range ? The RF ( radio frequency ) is all about the antenna. If you can improve the antenna, you can improve the reception. Just as you do with the rabbit ears for the TV antenna. Boosting the power of an FM transmitter beyond certain limits has legal consequences. Check with the FCC in USA, or the "Spectrum Direct" branch of Industry Canada as applicable, to find out the restrictions.
The Site below has a search feature to find the best/least used frequencies in your given zip code. It also has a link for Canada AND international searches on the far right as well. It's worth a shot to see if you can find a cleaner, less used station where you live and travel.
Happy hunting for a better FM connection.
Additionally, try not to place your phone or the transmitter near another electronic device. If you have other add-on electronic device like a GPS. Please turn it off, or place your transmitter away from those devices. BEST OF ALL..... You can use this device anywhere there is an FM radio. You will get the same high quality sound this device is known for. You can use it with your iPod and iPads too.
Check out How to Listen to iPhone 7 Music Thru Old Car Stock Radio by Wesley Wade on Snapguide. ==============================================================
Here Is My Personal Guarantee to You!
Contact me @ 1-415-754-3877
for any questions
60-Day Money-Back Guaranteed
I want you to be fully satisfied with every item that you purchase from me If you are not satisfied any item you may return the item within 60 days of delivery for a full refund of the purchase price, minus the shipping, handling or other additional charges.
This item comes with one year replacement warranty. We tested every piece just before shipped it to you.

We offer 60 days 100% satisfaction guarantee and refund ( exclude shipping ) You have 7 days to contact us and 10 days to return it from the date it was received. Please NO RMA number needed before you return.

Return must be in the original package, and with ALL original accessories if you return for refund, if you return for replacement, just return defective part to save postage. All warranty will be void if you open the transmitter enclosure.

Return shipping is to be paid by the Buyer. We will pay the mailing cost of the replacement to buyer.
IF YOU WISH TO RETURN THIS, PLEASE DO THE FOLLOWING.
1. Would you please tell me what type of vehicle that you use it on?
2. Please include your name and address ( so I know who to credit to ) along with all the remaining original packaging
Note: The manufacture will only refund or exchange the unit if the transmitter has not been modify or doctored in anyway.
Please have the original packaging when return for a refund. The manufacture is very particular about this.
I will refund your money via Paypal as soon as I receive your return item in good condition.
Please return your item to: ( this would be an international shipment, and it would require a trip to the USPS)
when return first class mail is sufficient ($13.25 from Anywhere in U.S ). no need for registered mail.
Please allow 3 to 4 weeks for the returning and refund process.
Please sent the product to
AI-LIEN LIAO 0918009638
14F, NO.391, SEC. 2, DANJIN RD,
TAMSUI DIST, NEW TAIPEI CITY, 25172
TAIWAN (R. O. C.)
If you wish to expedite the refund process. Please sent me the receipt from USPS and I will process the refund within a couple of days. Thanks!
===============================================================================================
ABOUT FEDERAL COMMUNICATION COMMISSION - FCC
As mandated by the FCC or your local equivalent. In the USA, the rule requires an ERP of 0.01 µW, or 10 nW, or -30dBm. So ok, you're only going a meter or so, so that signal at the car's antenna should be around -40dBm to -45dBm, depending on the actual distance. And a typical consumer FM receiver should be good to -90dB or so receive sensitivity. When it comes reception and sound quality. It's all about the antenna! Where's your antenna? Where's the FM transmitter? Chances are, the answer to the latter is "somewhere near a DC outlet". So if you have one of those in-windshield FM dipole antennas, you might have a pretty good signal, though the direct path to your antenna might be through your dashboard. But if your antenna is one of those shark fins on the roof, you have a 5-10 millimeters of steel between your transmitter and your receiver. The final sound quality will be degraded accordingly. The FM radio band is essentially a "line of sight" band. To hear a signal, you have to be able to see the tower. FM radio does have some power to penetrate buildings and the like, but ultimately the maximum distance that can be achieved is mostly set by the curvature of the earth. But on the "medium wave" band, radio waves can be ducted and can curve around the earth, especially at night.
FM radio sounds so much better is that the extra space effectively allows them to send more data. Without getting technical, they have 20x as much space, and so can send not just a wider range of audio frequencies, but also stereo sound, and other more modern improvements like the Radio Data System - Wikipedia.